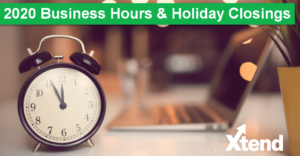 Attention Xtend clients: during the 2020 calendar year, Xtend's regular business hours will be 8:00 AM to 5:00 PM ET.  The Xtend Contact Center will be available to take calls from 8:00 AM to 11:00 PM ET Monday through Friday, and available from 8:00 AM to 5:00 OM ET on Saturday.
Please note that Xtend will be closed for the following holidays in 2020:
Memorial Day – Monday, May 25th
Independence Day – Saturday, July 4th
Labor Day – Monday, September 7th
Thanksgiving – Thursday, November 26th
Christmas Day – Friday, December 25th
New Year's Day – Friday, January 1st
Additionally, the Xtend Contact Center will close early at 8:00 PM on the following days:
November 25th
December 24th
December 31st
Please contact us at info@xtendcu.com if you have any questions.