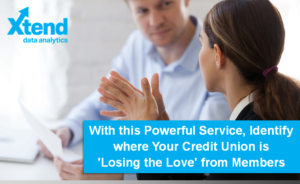 Losing the Love is a CU*BASE tool that helps credit unions study the behavior patterns of recently closed members.  Your staff can reference these patterns to see if any currently open memberships are displaying similar behavior.
Losing the Love is also offered as a marketing service by Xtend, where we identify currently open memberships that are displaying the aforementioned behavior patterns and reach out to those members with an email and a survey to gather feedback.  From there, the credit union has the opportunity to follow up with these members and take action.  To learn more or to register for this service, click the button below.
The Losing the Love tool and marketing service aren't just useful for finding members who are willingly disengaging from the credit union – they can also be used to find members who are struggling financially.  In this time of uncertainty, it is more important than ever to engage with these members and reach out with an offer to help.  For a deep dive into this topic, click below to read the latest blog article from Sarah Ashby, Business Intelligence Analyst with Xtend Data Analytics.