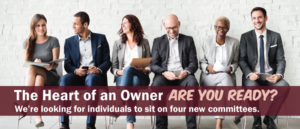 The lifeblood of any cooperative is the active owner.  Cooperatives rely on owners who are active not just as consumers of the cooperative's products and services, but also with a passion for ensuring the cooperative is the type of organization they want to own.
We are seeking nominees to serve on four new committees!  These nominations are independent of the normal Board election calendar, and can be submitted at any time.  Nominees will be reviewed and presented to the Board once per calendar year.
Have someone in mind that would be a great fit?  Or interested in serving on one of these committees yourself?  For a full list of qualifications, as well as the nomination form, follow the link below:
For more information on CUSO governance opportunities, click here to review our 2018 handbook.