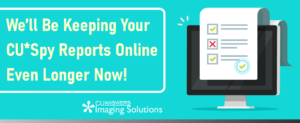 Imaging Solutions is excited to announce an Increased History for Reports in CU*Spy!  Currently, CU*Spy reports are retained for 90 days.  In April, we began retaining reports online in CU*Spy as part of an ongoing plan that will ultimately see these reports retained for a full 12 months.  Best of all, there is no fee for this increase – it is completely FREE of charge and there is no action required on your part to activate it.  We hope you'll appreciate this added convenience!
(Please note: because we previously purged CU*Spy reports after 90 days, it will take 9 months from now for your credit union to have access to a full 12 months of report history.  Additionally, this update affects only CU*Spy reports – history for other documents and statements, including eStatements, will remain unchanged from their current settings.)
Remember, this is for online access and convenience.  Your archival strategy and retention schedules are still the responsibility of your credit union, and can be managed via monthly DVDs and/or your in-house vaulting strategy.
If you have any questions, please contact Imaging Solutions at Imaging@cuanswers.com.