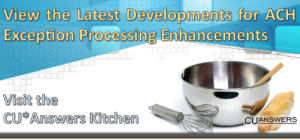 On May 9, 2019, a CU*Answers design team met to brainstorm ideas for changes to CU*BASE tools and processing routines.  Our main goal is to make it clearer to end-users how the tools work, including warnings about what to watch out for and tips for avoiding potential pitfalls.
As a result of these preliminary conversations, developers are now starting research on several possible solutions.  The newest developments can be viewed on the Kitchen page – click the button below to view these in detail.
We will continue to explore what changes we can make to our documentation and training curriculum, to assist credit union employees in making more informed decisions about how they choose to use these features when processing their daily ACH exceptions.