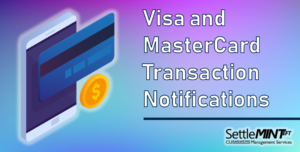 As you might recall, both Visa and MasterCard released a mandate in 2017 which stated that you must offer a way for your cardholders to receive transaction alerts through a vendor of your choice.  Many Visa issuers did not take any action when this mandate was released, as Visa provided a free transaction alert option through Visa.com.  The only cost presented was for the SMS text messages associated with those transaction alerts.
Additionally, it has been brought to our attention that starting in January of 2020, Visa will begin charging $300 per month to all customers who have at least one member enrolled (in addition to their SMS text message charges).
When this mandate was presented, you may recall that the network was in the process of creating an app that could provide transaction notifications.  To use our notifications, you will need to have the cuasterisk.com mobile app.  We will send notifications to members based on any transactions that are sent to CU*NorthWest for processing.
We recommend that you review the mandate.  If your credit union needs to make any adjustments, please reach out to the Internet Retailer Support Center (IRSC) to sign up for the mobile app and transaction notifications.  You may also wish to contact your ATM/Debit/Credit card vendor to see what options they might have to help you avoid additional costs from Visa.