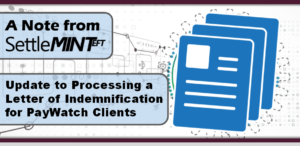 After some analysis on the processing of Letter of Indemnification (R06) requests to assist with combating fraud, Payveris' ODFI has found that those credit unions implementing PayWatch were able to significantly reduce losses associated with fraudulent transactions.  Additionally, they have found that only ~3% of all Letter of Indemnification (R06) requests resulted in a recovery of funds.
Because of these findings, starting in September (billing invoice October) any Letter of Indemnification (R06) that is requested will be charged a $50.00 fee.  When you contact the SettleMINT team, we will continue to discuss the fraudulent transaction with you and assist with providing details on the financial institution where the transaction was sent, so that you can be proactive and contact that financial institution and attempt to recover the funds.  We will also discuss PayWatch with you and/or review your rules and make changes if needed.
If you choose to move forward with submitting a Letter of Indemnification, the team will provide you a letter to sign with the details on the transaction and an agreement to the charge.