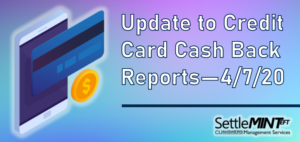 Attention credit unions who are currently using the Credit Card Cash Back program: we will be implementing updates to the Credit Card Cash Back reports on the morning of Tuesday, April 7th.  These updates will improve the display of postings and exceptions.
Updates to the Credit Card Cash Back Transaction Register Report will include:
Added Cash Back Forfeited and Comment columns
Updated column heading from Cash Back Amount to Cash Back Paid
Added program code headings
If you have any questions, please contact us via email at: settleminteft@cuanswers.com.