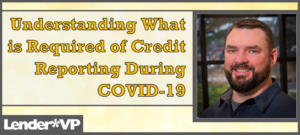 In recent weeks, you have likely seen documentation, emails and other materials regarding credit reporting for your members and recommendations on what actions your credit union should take.  You may be wondering: what is your credit union actually required to do?
Included in this email is a link to a PDF document which details two overarching documents that govern credit reporting and the proper method for reporting loans in forbearance or member loans that are delinquent as a result of the coronavirus outbreak.  These two documents are:
CU*Answers also recommends that credit unions seek the advice and counsel of their compliance and legal professionals to ensure the proper steps are taken to:
Report a particular loan as current, and/or
Report a loan delinquent that was in a delinquency status prior to the pandemic.
We understand that you are working with members to make accommodations on loans and determine the best decision for your members and your credit union.  We encourage you to review the PDF in full to become familiar with what is required of your financial institution and to explore options available in CU*BASE.
Lender*VP is here to assist you.  If you need help or have any questions, please  each out to Pete Winninger at: Pete.Winninger@cuanswers.com.