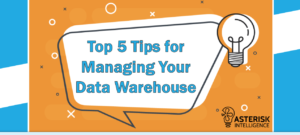 The Data Warehouse in CU*BASE is more than just a tool, it's a framework for database management and next-level analytics.  Anyone with a Data Warehouse has the capability and responsibility of organizing and controlling data within the warehouse.  Ongoing attention to data quality and established procedures can help avoid a messy or frustrating database down the road.
Here are the top 5 warehouse management tips we've recently collected from questions that came across the Asterisk Intelligence desk:
Create rules for uploading & share internally – Ensure you are putting good data into the system by establishing a set of rules and a review process for all files which will be uploaded to Data Warehouse.
Know what "access" means (we have a chart!) – The Data Warehouse solution opens library authority controls to credit union users for the very first time.  It can be tough to keep track of the nuances – Check out the chart which breaks down the layers of user authority that every database administrator or security officer needs to know. Click here
Give it a description! Every table needs a description – Train down the habit of reviewing and maintaining any table's description after every query build or upload.  Make sure staff who build queries are aware that they can input a table description for each step of their query within the 'Choose Output' settings of any query definition.
Go ahead & delete those old tables – It's been a couple of months… do you still need that table holding the target audience from last quarter's marketing campaign?  Maybe if you're still doing a static pool analysis on that group, but probably not.  Stay ahead of the volume in your Data Warehouse with a monthly review (or bi-weekly, if you have high volume) to delete non-essential tables.
Cut the clutter with a query-building trick – When you build a string query that needs its final output stored in the Data Warehouse, don't set up every step of the string query to save its output in the DW.  Only set the very last step for output to FILExxDW.  Remember, QUERYxx tables will purge on a regular basis, so the Data Warehouse is best for long-term storage of key custom data tables.
Asterisk Intelligence is your support desk for Data Warehouse, data analytics, and all data strategy items at CU*Answers.  Contact us at ai@cuanswers.com or 800-327-3478 x 870.