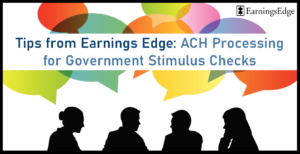 As government stimulus checks have started reaching member accounts, your credit union may have questions about how ACH processing and balancing are affected.  Earnings Edge has compiled a list of inquiries and recommendations, with links to additional information/resources.  Follow the link below to view the PDF.
Additionally, the IRS is using the same Company ID as all the Tax refunds completed in 2018 & 2019 for the government stimulus checks.  For instructions on how to update a Company ID using the Copy/Merge feature in CU*BASE, click here to view an alert posted earlier this week.
Contact us with any questions at: earningsedge@cuanswers.com.