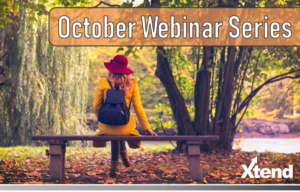 Coming Up This Week!
Each month, Xtend offers FREE webinars focused on lending, marketing, and member service; these engaging webinars provide credit unions with helpful products, services, and industry tips to give them the leading edge.
Tuesday, October 15
11:00 AM – 11:30 AM PT
Building and executing effective services starts and ends with data.  Xtend Data Analytics dives deeper into your membership and their behaviors to improve the way credit unions are communicating with their members.  Whether it's evaluating your phone services, the members that hold your credit card, or a recent marketing effort, our Data Analytics department strives to find you answers to your everyday questions, and pose more advantageous inquiries regarding your member comprehension.
Wednesday, October 16
11:00 AM – 11:30 AM PT
RevGen: Delivering Your Marketing, Revenue and Lead Generation Goals
Do you want to take the pressure off of your member marketing needs, but want great marketing campaigns that sell your products?  Xtend's RevGen program allows you to control your audience and marketing channels while we deliver marketing and revenue results right to you.  Use RevGen in combination with your own marketing efforts to maximize lead generation with targeting and segmentation through Xtend.  We've got a RevGen program waiting for you!