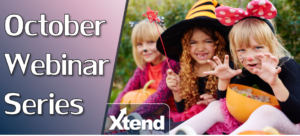 Coming Up This Week!
Each month, Xtend offers FREE webinars focused on lending, marketing, and member service; these engaging webinars provide credit unions with helpful products, services, and industry tips to give them the leading edge.
Tuesday, October 23
2:00 PM – 2:30 PM ET
2-Way Landline Texting, Powered by Zipwhip
Text enabling your existing landline number lets you get in a text messaging relationship with your customers. You no longer need to source a different number for texting—one number does it all. Member Service, Lending Support, and Collections are the most popular uses of this powerful communication tool!
Don't forget to use "Keywords" – Your member can text in a word like HOURS, and receive your pre-configured response automatically. Or how about texting in APPLY and receive a reply with a link to your online loan application (if mobile-friendly)!!
Try it right now! Text PRICING to 866-981-4983 and you'll receive an automatic answer in seconds!
Don't have your phone on you right now? No worries – Bring your mobile phone with you to the webinar to actively participate in our live demo!
Wednesday, October 24
2:00 PM – 2:30 PM ET
Contact Center Service – Strengthen Relationships One Conversation at a Time
Members demand flexible and convenient ways to contact your credit union as well as ease and expediency when completing tasks such as filling out loan applications. With the Xtend Contact Center, we offer SO many ways to reach out to members, boost customer interaction and create easy ways to access credit union amenities.
The Xtension Contact Center has varying services available including custom call campaigns that you're able to organize depending on your needs. Among the Xtension Contact Center services are inbound member service calls, targeted outbound campaigns, web chat, and others that will be discussed in the webinar!
Join us to learn more about the many services our comprehensive Xtension Contact Center can offer you!