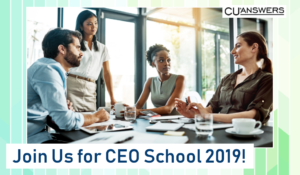 A Special Event Just For Credit Union CEOs
During this week-long event, CEOs will interact with each other and CU*Answers CEO Randy Karnes as they learn how CU*BASE tools can be used to find opportunity. Topics such as building trust with cooperative owners, developing delivery channels for both consumers and owners, building a firm with digital intelligence, and adopting a retail strategy are designed to help credit union senior executives gain new insights for their organizations as well as their own careers.
Each of 2019 CEO School courses will be hosted in-person at our Grand Rapids headquarters.
Monday, March 18
2:00 PM – 4:00 PM ET
Introduction to Asterisk Intelligence and the CU*Answers Business Intelligence Help Desk
Tuesday, March 19
9:00 AM – 10:30 AM ET
Building Trust with Cooperative Owners: CUSOs and CUs
11:00 AM – 12:00 PM ET
Understanding the CU*Answers SDLC and Promoting Projects
1:00 PM – 2:00 PM ET
Adopting and Highlighting a Retail Strategy as a Senior Executive
2:30 PM – 4:30 PM ET
Evolving Retail Strategies Tactically: Facing the Inevitable Internet Influence
Wednesday, March 20
9:00 AM – 10:30 AM ET
Building a Firm with Digital Intelligence and Proving It to the Marketplace
11:00 AM – 12:00 PM ET
Data Warehouse Strategies for CEOs: Do They Fit with Your Future Plans?
1:00 PM – 2:00 PM ET
Database Management: Tool Spotlight for CEOs
2:30 PM – 3:30 PM ET
Getting Started with Unique Data Management (UDM) for CEOs
4:00 PM – 4:30 PM ET
Using Data to Turn Your Board into Collaborative Analysts
Thursday, March 21
9:00 AM – 10:30 AM ET
Action Through Consumer-Owners: Developing Delivery Channels That Face Both Personas
11:00 AM – 12:00 PM ET
Reporting Up and Delegating Down: Building Trust with Your Team and Your Board
1:00 PM – 3:00 PM ET
Expanding Your Audience for Data: Analytics Booth as the Foundation
3:30 PM – 4:30 PM ET
CU*BASE Management Tools for CEOs: Leadership Dashboards & Visual Analytics Tools (VAT)
Friday, March 22
9:00 AM – 11:00 AM ET
Introduction to Asterisk Intelligence and the CU*Answers Business Intelligence Help Desk