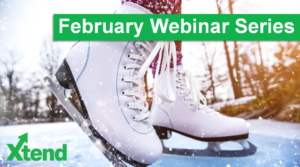 Coming Up This Week!
Each month, Xtend offers FREE webinars focused on lending, marketing, and member service; these engaging webinars provide credit unions with helpful products, services, and industry tips to give them the leading edge.
Tuesday, February 25
11:00 AM – 11:30 AM PT
Credit Unions Generate Monthly Income While Members Get Automatic Price Drop Refunds
Relevant Solutions' new price drop service allows your members to shop with confidence with your Credit Union's debit and/or credit card, knowing your new service will automate process and get your member a price drop refund back to their debit and/or credit card!  On average, we get your members $250 back annually.  Your credit union makes income every time this service is successful in getting your members money back after purchase!
Wednesday, February 26
8:00 AM – 8:30 AM PT
According to a study by Intel, digital displays receive 400% more views than static displays, giving you a better chance of communicating the right message at the right time.  This webinar, provided by expert strategists at Revel Media Group, is for anyone who is using or interested in using digital signage.  You'll learn concrete tips and tools to increase the success of your strategy and make your message heard.
Thursday, February 27
11:00 AM – 11:30 AM PT
What are you doing to onboard your new members?  Xtend is excited to announce the launch of our brand new product which is focused on providing a high quality and automated new member onboarding program for all credit unions.
Our series of personalized emails create both a welcoming and educational digital marketing path that will help guide your new members along the most important steps of their credit union journey.  Each new member will be automatically launched into this automated program upon opening of their membership.  Over the next 90 days, they will receive onboarding emails based on 8 pre-defined NMO touch points.  We will leverage live data and dynamic content to provide personalized and relevant content that can be specific to their unique memberships.