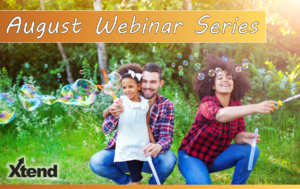 Coming Up This Week!
Each month, Xtend offers FREE webinars focused on lending, marketing, and member service; these engaging webinars provide credit unions with helpful products, services, and industry tips to give them the leading edge.
Wednesday, August 7
11:00 AM – 11:30 AM PT
Losing the Love: Recapturing Your Memberships
Members don't always verbally tell you that they're leaving the credit union, but their actions often do.  Xtend has studied the steps that members take before they completely leave the credit union, and have put action items and follow ups to help you keep more members around.
Recapture the love your members are losing with Xtend's Losing the Love marketing program, and increase your member retention today!
Thursday, August 8
11:00 AM – 11:30 AM PT
Branding Your eStatement Notifications
Turn your standard plain-text eStatement notification into a fashionable, interactive, action-inspiring eStatement notification!
Do more than just notifying your members that your eStatements have been posted.  Xtend encourages you to take your marketing strategy to new heights by using this opportunity as another way to effectively communicate promotions offered by your credit union.