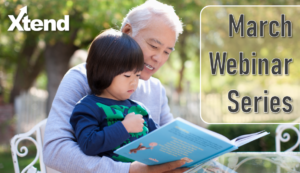 Coming Up This Week!
Each month, Xtend offers FREE webinars focused on lending, marketing, and member service; these engaging webinars provide credit unions with helpful products, services, and industry tips to give them the leading edge.
Tuesday, March 26
11:00 AM – 11:30 AM PT
Losing the Love: Recapturing Your Memberships
Members don't always verbally tell you that they're leaving the credit union, but their actions often do.  Xtend has studied the steps that members take before they completely leave the credit union, and have put action items and follow ups to help you keep more members around.
Recapture the love your members are losing with Xtend's Losing the Love marketing program, and increase your member retention today!
Wednesday, March 27
11:00 AM – 11:30 AM PT
Let's Put Our Mortgage Factory to Work
Xtend and Lender*VP collaborate to make mortgage servicing and escrow processing a breeze for your credit union – put our knowledge and expert abilities to work!  We make it very easy for you by providing services such as escrow processing and investor reporting.  Join us on March 27 to learn more!
Thursday, March 28
11:00 AM – 11:30 AM PT
SRS Bookkeeping Services: Understanding What We Offer
Join us for an overview of the services that Xtend SRS Bookkeeping offers on a daily, monthly and quarterly basis.  We will dive into the specifics of how SRS can help your credit union!  Remember to check out the Xtend Store if you're interested in getting started with Xtend SRS services.