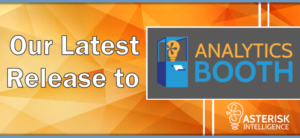 New Executive Summary Trends and Alerts, and Updated Graphing Options UI!
 The Asterisk Intelligence Team is excited to present the AB_20.02 Analytics Booth Release, arriving to online client Analytics Booth subscribers on Sunday, February 23! This release features updates to Executive Summary Trends and Alerts, as well as an updated user interface for Graphing Options in Trends.  Check it out!
Learn More About the Analytics Booth Release
Join the Asterisk Intelligence Team for a release review.  We will discuss these new features, and how they can be integrated into your daily operations to improve your data-driven strategies!
Wednesday, February 19
12:00 PM – 1:00 PM PT
Wednesday, February 26
1:00 PM – 2:00 PM PT