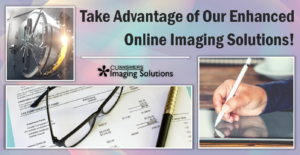 Ready to up your internet retailing game?  Want to carry out business with your remote members, regardless of where their busy lives might take them?  Looking to do more than our basic online imaging solution provides for?  Check out the greater flexibility provided by our Enhanced Online Imaging Solutions, as well as other solutions including:
An Enhanced Online Vault
eSignature
Member Tax Statements
Virtual Closing Rooms
Virtual Strongbox
And much more!
You'll be surprised how inexpensive it can be!  The Enhanced Online Solution is a great fit for credit unions looking to do more with their online solutions, but who are not yet ready to take on the responsibilities or costs of an In-House Solution.
Ready to get started?  Visit the online store to learn more!