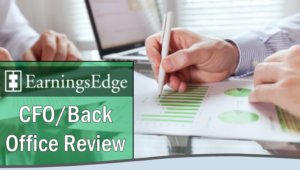 Join Earnings Edge in a 2-part free webinar series of the CFO and Accounting Manager in all of us!
Part 1: CFO/Back Office Review Sessions offer a high level overview of the 5 primary CU*BASE Budgeting Tools.  Credit Unions that take advantage of this session can leave with a plan on how to use CU*BASE to achieve their financial objectives.
Part 2: Next, we will explore CU*BASE accounting software and dashboard screens, with a focus on reviewing your credit union's daily, monthly, and quarterly processing.  Earnings Edge provides you recommendations for improving the efficiency for these tasks.  We will work one-on-one with the CFO in all of you to help improve practices for Board Management and your Regulatory Reports.
CFO/Back Office Review Sessions are performed POV and are offered at no cost to you.  Schedule your session today!  Email us at: earningsedge@cuanswers.com