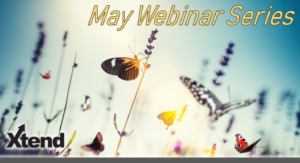 Coming Up Next Week!
Each month, Xtend offers FREE webinars focused on lending, marketing, and member service; these engaging webinars provide credit unions with helpful products, services, and industry tips to give them the leading edge.
Tuesday, April 30
11:00 AM – 11:30 AM PT
Quarterly Campaign Summaries – How Did We Do?
Over the most recent quarter, Xtend's Communications Team has been extremely busy connecting with members and ensuring that our clients' marketing efforts were coordinated efficiently.  Join us on April 30 to chat about the previous quarter's highlights, features, and successful marketing efforts as we move forward into the next quarter.  This webinar is just one more way that Xtend is leading in communication and providing inspiration and creative marketing ideas for our clients.
Wednesday, May 1
11:00 AM – 11:30 AM PT
Contact Center Service – Strengthen Relationships One Conversation at a Time
Self-service tools are rapidly becoming the primary member touchpoints for credit unions.  For connected members, digital channels enhance the member experience. The Xtension Contact Center has varying services available including custom call campaigns that you're able to organize depending on your needs, including inbound member service calls, targeted outbound campaigns, web chat, and others that will be discussed in the webinar!
Join us to learn more about the many services the Xtension Contact Center can offer you!
Thursday, May 2
11:00 AM – 11:30 AM PT
OLLE – Online Lead Generation: Engage Members or Non-Members Through Digital Contests
Traditional advertising techniques are still popular and effective, but how do you target those who won't ever see your commercial or hear your radio bit? This is where modern, digital opportunities come into play.  OLLE (Online Loan Lead Engine) is a user-friendly, easy way for you to turn your social media following into new members or even new loans.
Join us for top reasons why you should be utilizing OLLE.  You'll learn all about its awesome features, usability, FULLY-customizable design and much more.