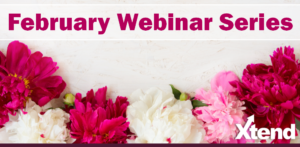 Coming Up Next Week!
Each month, Xtend offers FREE webinars focused on lending, marketing, and member service; these engaging webinars provide credit unions with helpful products, services, and industry tips to give them the leading edge.
Tuesday, February 19
11:00 AM – 11:30 AM PT
Member Reach: Convenience, Simplicity and Control
Member Reach can send your members automated messages for paid off loans, CDs approaching maturity, birthdays, and more! You can customize these messages to display some elements of your brand and control what gets sent, and when.
Join us as we dive into the details of Member Reach to learn more about this program. This webinar is geared towards non-current Member Reach clients who would like to learn more about the program and any current Member Reach client that would like to brush up on their education.
Wednesday, February 20
11:00 AM – 11:30 AM PT
Generate Fee Income by Getting Your Members Over $250 Annually in Price Match Refunds Automatically by Relevant Solutions
This new service monitors the existing price match policies of the top in-store and online retailers. Your members simply forward their online receipts or snap a photo of an in-store receipt and submit it to a custom email address. Our platform automatically tracks all of the items purchased and will initiate a refund automatically back to their card from that retailer if a price drops on a purchased item.
Thursday, February 21
11:00 AM – 11:30 AM PT
Business Texting 101 (Powered by Zipwhip)
Make things convenient and personable for your members by text-enabling your existing landline.  Your members will be able to text things like "HOURS" and automatically receive your pre-configured response, putting YOU in control.  Other options include applying for loans via an online loan application (if your credit union provides a mobile-friendly option).
You can test it for yourself to experience how easy it is – text "PRICING" to (866) 981-4983 and receive an automatic reply in seconds!  Join us at February 21 to learn more about Business Texting powered by Zipwhip.