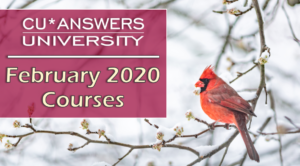 Each month, CU*Answers University hosts FREE web conferences and in-person events that highlight the many products and services our CUSO offers.  Take a look at the courses we have coming up in February!
Monday, February 3
12:00 PM – 12:30 PM PT
How to Develop and Test Your Business Continuity Plan
Tuesday, February 4
11:00 AM – 12:00 PM PT
Member Connect: Building a Communication Network within CU*BASE
12:30 PM – 1:30 PM PT
Advanced General Ledger
Wednesday, February 5
10:30 AM – 12:00 PM PT
CU Financials: Configuration, Printing, and Other Options
Wednesday, February 12
6:30 AM – 7:30 AM PT
Head Teller Vault/Change Fund Management
8:00 AM – 9:00 AM PT
MAP/MOP – Applying for Membership Online
Don't forget: CU*Answers web conferences are always free to attend!