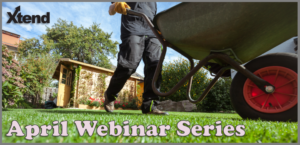 Coming Up Next Week!
Each month, Xtend offers FREE webinars focused on lending, marketing, and member service; these engaging webinars provide credit unions with helpful products, services, and industry tips to give them the leading edge.
Tuesday, April 9
11:00 AM – 11:30 AM PT
7 Things Your Digital Signage Strategy Might be Missing by Revel Media Group
According to a study by Intel, digital displays receive 400% more views than static displays, giving you a better chance of communicating the right message at the right time.  This webinar, provided by expert strategists at Revel Media Group, is for anyone who is using or interested in using digital signage.  You'll learn concrete tips and tools to increase the success of your strategy and make your message heard.
Wednesday, April 10
8:00 AM – 8:30 AM PT
Buzz Points: Incentivize. Engage. Grow.
Do you want to create loyal members, support your community AND create a healthy bottom line?  The Buzz Points incentive-based member engagement and revenue generation platform can help you build loyalty and boost your bottom line.  By combining powerful incentives with engaging marketing, Buzz Points has proven to deliver undeniable results.
Join to learn more about how using real-time messaging and powerful incentives can support your community and drive revenue.
11:00 AM – 11:30 AM PT
Free Pilot to Automate Changing Top Recurring Bills to Your CU Card, by Relevant Solutions
Relevant Solutions has partnered with Arcus Financial for the opportunity for the first 10 Credit Unions to pilot their leading card swap technology & strategies for FREE.  This pilot solution combines technology, incentives, and timely marketing.
What will you learn in this webinar?
Recurring billing to cards will be going from $290 to $418 billion by 2021
How the right combination of incentive strategies, timely marketing, and technology can ensure your card is the card on file!
Example Pilot data from two of the top card issuers
Details of the pilot opportunity
Thursday, April 11
11:00 AM – 11:30 AM PT
Losing the Love: Recapturing Your Memberships
Members don't always verbally tell you that they're leaving the credit union, but their actions often do.  Xtend has studied the steps that members take before they completely leave the credit union, and have put action items and follow ups to help you keep more members around.
Recapture the love your members are losing with Xtend's Losing the Love marketing program, and increase your member retention today!