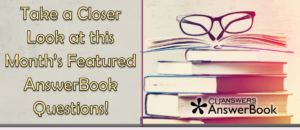 We have two featured AnswerBook questions for the month of October – check them out below! 
Our first featured question for this month:
What regulatory requirements do I need to be aware of as I promote text banking to members, even if I offer it for free?
Our second featured question for this month:
Do the Account to Account (A2A) limits entered in CU*BASE also apply to Accounts Payable payments made via ACH?
Refer to AnswerBook anytime, anywhere; our online database of thousands of questions and answers pertaining to CU*BASE!  Click here to register for AnswerBook today!
Want to review featured AnswerBook questions from previous months?  Check them out here!