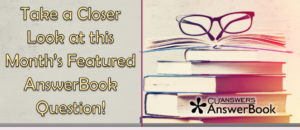 Check out our featured AnswerBook question for the month of January:
Do I need to have an unsubscribe link in the communications I send to members?  What is the benefit over having them call my credit union or reply to the email?
Refer to AnswerBook anytime, anywhere; our online database of thousands of questions and answers pertaining to CU*BASE!  Click here to register for AnswerBook today!
Want to review featured AnswerBook questions from previous months?  Check them out here!