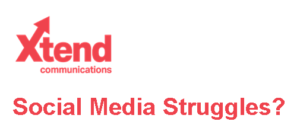 Social Media Struggles?
Let Xtend help!
We have a Social Media Portal that allows you to manage your social media accounts all at once, or have Xtend manage them for you.
Have it all figured out? Gain access to our portal to have one login for all your social media profiles. Use the tool features to dive into social listening, respond to your members, and create custom approval workflows.
Not quite there yet? Xtend can work with you to create a Social Media marketing calendar, design your posts, and track how effective your social media presence is.
Click the button below to get started!
Sign Up for Xtend Social Media Management
If you are not quite ready to sign up and would like additional information, please contact us!