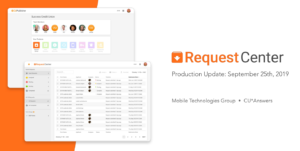 Attention credit unions currently using Request Center – the following applies to credit unions who currently have custom online forms created by IRSC.
An update to the Request Center user interface will be arriving on Wednesday, September 25.  This update will provide a seamless look and feel for Request Center across all of your devices.
Features of this update will include:
An easy-to-view list of all your credit union's team members
Improved interfaces for Form Actions and Filters
The option to switch between three different theme settings
And more!
For more details on this update, click below to read our PDF.
Have questions?  Reach out to the Mobile Technologies Group at: irsc@cuanswers.com.