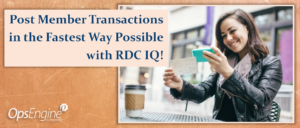 It's smarter, it's quicker… it's RDC IQ, and it's the near-real-time Posting Service Solution that you've been waiting for!
Do you currently use eDOC as your RDC (remote deposit capture) back-end processing vendor?  Then let us help you take your RDC program to the next level!  When a member posts a check via remote deposit capture, RDC IQ will have the money transferred to their account as quickly as possible.
Learn more – visit the OpsEngine store today to get started!