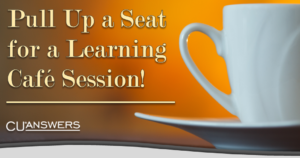 Here comes another Learning Café session!  Join Charlie Dean of the Lender*VP Team as he discusses the refinance loan trigger feature that was rolled out as part of the 19.05 Release of CU*BASE.  Learn about loan cross sales opportunities and more with this new feature!
Thursday, August 29
8:00 AM – 8:30 AM PT
Don't forget: CU*Answers web conferences are always free to attend!