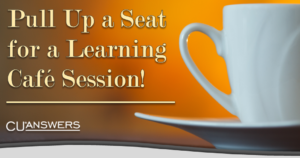 Here comes another Learning Café session!  Join Kyle Karnes, Account Executive Team Lead for Imaging Solutions, as he discusses some of the opportunities Imaging Solutions can present to your credit union.  Learn how to leverage Smart Links to improve your workflow and streamline your forms process with the help of Enhanced Online Vault.
Thursday, March 21
7:00 AM – 8:00 AM PT
Don't forget: CU*Answers web conferences are always free to attend!