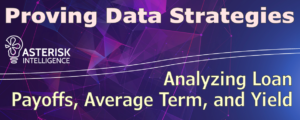 How many of your loans paid off last month?  How many of those loans were at full term, versus early payoffs?  Tracking loan payoffs, terms, and yields can provide a wealth of information and insights into the health of your loan portfolio as well as enhancing budgeting and corporate planning initiatives.  Follow along with our Asterisk Intelligence Analysts as they review the tools, resources, and strategies they recommend when analyzing your loan portfolio.
You have questions, your data holds the answers.  Join us as we prove the value your data can bring to your operations.
Thursday, May 7
12:00 PM – 1:00 PM PT
Click here to view summaries of our upcoming Proving Data Strategies sessions.