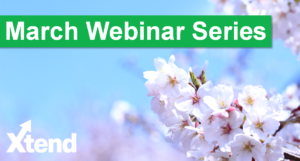 Coming Up Next Week!
Each month, Xtend offers FREE webinars focused on lending, marketing, and member service; these engaging webinars provide credit unions with helpful products, services, and industry tips to give them the leading edge.
Tuesday, March 24
11:00 AM – 11:30 AM PT
Xtend and Lender*VP collaborate to make mortgage servicing and escrow processing a breeze for your credit union – put our knowledge and expert abilities to work for your credit union!  We make it very easy for you by providing services such as escrow processing and investor reporting.
Thursday, March 25
8:00 AM – 8:30 AM PT
According to a study by Intel, digital displays receive 400% more views than static displays, giving you a better chance of communicating the right message at the right time.  This webinar, provided by expert strategists at Revel Media Group, is for anyone who is using or interested in using digital signage.  You'll learn concrete tips and tools to increase the success of your strategy and make your message heard.