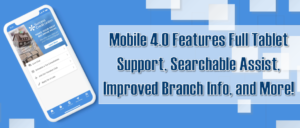 Mobile 4.0 is the first release to support full iPad and Android tablet support and optimization.  Mobile 4.0 presents the ability to link from homepage advertisements, a new native message center, credit score displays, branch information updates, and more!  More than 110 credit unions have already launched Mobile 4.0!
Ready to order Mobile 4.0 for your credit union?  Click below to visit the store – we'll help you get started!
For a full list of new features and enhancements, click below to view our PDF.