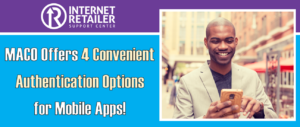 With MACO, your credit union can offer convenience to your members when they sign into their Apple or Android mobile apps.  MACO allows for up to 4 different authentication options for members on both Apple & Android devices, including voice recognition, face recognition, PIN and fingerprint.
There are two billing options available for this product – credit unions can choose to either prepay for a set number of licenses for the year, or true-up at the end of the year for the number of licenses used.
Ready to learn more?  Follow the link below to visit the IRSC online store for additional information, or to place your order today!