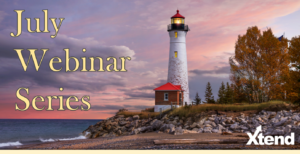 Coming Up This Week!
Each month, Xtend offers FREE webinars focused on lending, marketing, and member service; these engaging webinars provide credit unions with helpful products, services, and industry tips to give them the leading edge.
Tuesday, July 9
11:00 AM – 11:30 AM PT
Losing the Love: Recapturing Your Memberships
Members don't always verbally tell you that they're leaving the credit union, but their actions often do.  Xtend has studied the steps that members take before they completely leave the credit union, and have put action items and follow ups to help you keep more members around.
Recapture the love your members are losing with Xtend's Losing the Love marketing program, and increase your member retention today!
Wednesday, July 10
11:00 AM – 11:30 AM PT
Business Texting 101 (Powered by Zipwhip)
Make things convenient and personable for your members by text-enabling your existing landline.  This powerful communication tool is beneficial to both your members and your staff when trying to assist with many member needs.
You can test it for yourself to experience how easy it is – text "PRICING" to (866) 981-4983 and receive an automatic reply in seconds!
Join us to learn more about Business Texting powered by Zipwhip.
Thursday, July 11
8:00 AM – 8:30 AM PT
7 Things Your Digital Strategy Might Be Missing, by Revel Media Group
Digital Signage is the best way to communicate with your audience.  According to a study by Intel, digital displays receive 400% more views than static displays, giving you a better chance of communicating the right message at the right time.
This webinar, provided by expert strategists at Revel Media Group, is for anyone who is using or interested in using digital signage.  You'll learn concrete tips and tools to increase the success of your strategy and make your message heard.
11:00 AM – 11:30 AM PT
Branding Your eStatement Notifications
Turn your standard plain-text eStatement notification into a fashionable, interactive, action-inspiring eStatement notification!  Do more than just notifying your members that your eStatements have been posted.  Xtend encourages you to take your marketing strategy to new heights by using this opportunity as another way to effectively communicate promotions offered by your credit union.