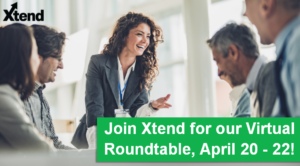 Join Xtend for our Virtual Roundtable, April 20th – 22nd!  This three day event will focus on peer-suggested discussions, include guest speaker presentations and offer training opportunities with the CU*BASE toolset.  Share insights with your peers, discuss ongoing trends in the industry and set plans for your credit union's future!  Take a look at our schedule below:
Monday 4/20, 9:00 AM – 1:00 PM PT
Sales and Marketing
9:00 AM – Campaigns: trends, stats, and what we see coming next
10:15 AM  – Recurring Communications: Member Reach and New Member Onboarding
11:30 AM  – The importance of social presence & how Xtend can help
Tuesday 4/21, 9:00 AM – 1:00 PM PT
Sales and Marketing
9:00 AM – How Data Analytics can help your credit union
11:00 AM  – Mobile 4.0, secure forms, and MEV for MOP
12:05 PM  – Member experience: how can we create communication strategies/packages to help?
Wednesday 4/22, 6:00 AM – 9:00 AM PT
Contact Center Services
6:00 AM – Creating a retail environment
7:00 AM – Reporting, metrics, and call monitoring
8:00 AM – Agent onboarding and training, creating and embracing culture
Click the button below to RSVP – we look forward to seeing you!