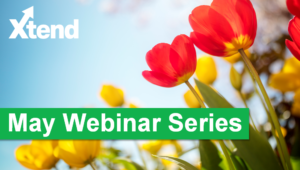 Coming Up This Week!
Each month, Xtend offers FREE webinars focused on lending, marketing, and member service; these engaging webinars provide credit unions with helpful products, services, and industry tips to give them the leading edge.
Wednesday, May 13
11:00 AM – 11:30 PM PT
Create a welcoming and educational digital marketing path that'll help guide your new members through setup, enrollments and more. Using live data and dynamic content emails, each member will receive info specific to their membership.
Thursday, May 14
7:00 AM – 7:30 AM PT
Xtend Data Analytics uses in-depth knowledge of the CU*BASE platform to further your marketing efforts, better understand your membership, and back crucial decisions with data.
11:00 AM – 11:30 AM PT
Contact Center Services Webinar
Increase your support and contact with members, and free up internal time to focus on other projects.