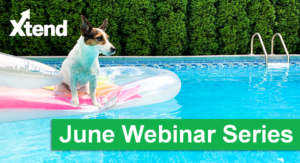 Coming Up Next Week!
Each month, Xtend offers FREE webinars focused on lending, marketing, and member service; these engaging webinars provide credit unions with helpful products, services, and industry tips to give them the leading edge.
Tuesday, June 9
11:00 AM – 11:30 AM PT
Xtend Communications Overview Webinar
The Xtend Communications department keeps credit unions connected to their membership by acting as an extension of CU marketing teams. Join us as we dive into the various Communication offerings ranging from ongoing outreach, campaign management, one-off custom requests, and more; and see how we can align with your current or future initiatives.
Thursday, June 11
11:00 AM – 11:30 AM PT
Contact Center Services Webinar
Self-service tools are rapidly becoming the primary member touchpoints for credit unions. For connected members, digital channels enhance the member experience. They can also add confusion as members learn how to use these new tools. And throughout the member experience, sometimes there is no substitute for live conversation.
With the Xtend Contact Center, we offer many ways to reach out to members, boost customer interaction and create easy ways to access credit union amenities. The Xtension Contact Center has varying services available including custom call campaigns that you're able to organize depending on your needs. Among the Xtension Contact Center services are inbound member service calls, targeted outbound campaigns, web chat, and others that will be discussed in the webinar!