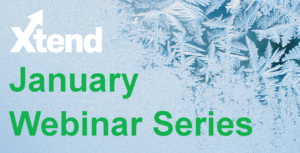 Coming Up Next Week!
Each month, Xtend offers FREE webinars focused on lending, marketing, and member service; these engaging webinars provide credit unions with helpful products, services, and industry tips to give them the leading edge.
Tuesday, January 28
11:00 AM – 11:30 AM PT
Xtend's RevGen program allows you to control your audience and marketing channels while we deliver marketing and revenue results right to you. Use RevGen in combination with your own marketing efforts to maximize lead generation with targeting and segmentation through Xtend. We've got a RevGen program waiting for you!
Wednesday, January 29
8:00 AM – 8:30 AM PT
According to a study by Intel, digital displays receive 400% more views than static displays, giving you a better chance of communicating the right message at the right time. This webinar, provided by expert strategists at Revel Media Group, is for anyone who is using or interested in using digital signage. You'll learn concrete tips and tools to increase the success of your strategy and make your message heard.
11:00 AM – 11:30 AM PT
Credit Unions Generate Monthly Income While Members Get Automatic Price Drop Refunds
The new price drop service from Relevant Solutions allows your members to shop with confidence with your Credit Union's debit and/or credit card, knowing your new service will automate processes and get your member a price drop refund back to the debit and/or credit card! On average, we get your member $250 back annually. Your credit union makes income every time this service is successful in getting your members money back after purchase!
Thursday, January 30
11:00 AM – 11:30 AM PT
Traditional advertising techniques are still popular and effective, but how do you target those who won't ever see your commercial or hear your radio bit? This is where modern, digital opportunities come into play. OLLE (Online Loan Lead Engine) is a user-friendly, easy way for you to turn your social media following into new members or even new loans.