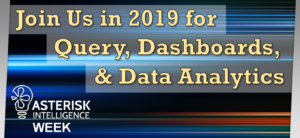 In 2019, the Asterisk Intelligence team will be hosting Asterisk Intelligence Week, a quarterly training and strategy event for anyone looking to learn tools and strategies for Data Analysis and Data Warehousing.
These 4-day events are designed for credit union management, marketing staff, and database administrators, and will include a mix of in-person and web-based courses to help you become an expert user of the CU*BASE Report Builder tool, CU*BASE Dashboards, the CU*BASE Data Warehouse, Analytics Booth, and other CU*BASE data management tools.
Our 2019 schedule is as follows:
Winter session:  February 18-21
Spring session:  May 13-16
Summer session:  August 12-15
Fall session:  November 11-14
For additional information, visit the event webpage.  Or, view our online course catalog for a current list of all of our upcoming webinars.  Please note that very few spots remain for this month's February event; registration is first-come, first-serve!