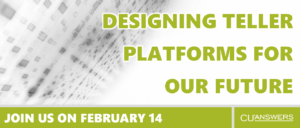 During the CEO Strategic Developers Boot Camp in November, CEOs brainstormed on the future of CU*BASE teller platforms from a big-picture, strategic point of view.  Now we want to get credit union subject-matter experts involved.
Join us on Thursday, February 14 as we review what the CEOs talked about in November and bring you up to speed on our plans for teller platform development in 2019.  There are two separate sessions; attend either or both as you wish.
Teller 3P Project Webinar: T3 (Floating/API Integrations) Status Update
Join us as we discuss the latest details on our Floating-API Integration solutions, including apps for tellers who are on the go at their respective branch locations.  These solutions are API-based, allowing better support integrations for third-party teller platforms.
1:30 PM – 2:15 PM ET
Teller 3P Project Webinar: T2 (KISS) Status Update
We will provide an update and discuss future plans for our T2 solution, known as 'KISS' or 'Express Teller' – an across-the-counter tool that is streamlined for today's teller lines.
2:30 PM – 3:30 PM ET