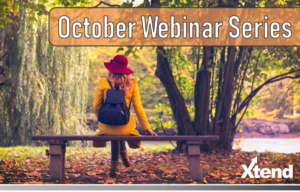 Coming Up Next Week!
Each month, Xtend offers FREE webinars focused on lending, marketing, and member service; these engaging webinars provide credit unions with helpful products, services, and industry tips to give them the leading edge.
Tuesday, October 8
11:00 AM – 11:30 AM PT
Xtend's Core Values and Value Propositions make us unique – come join the discussion as we highlight the major things that make us who we are.  Whether you're a prospective client, a new client looking to grow our relationship, or you've been working with us for years, getting to know us better will ensure that we continue or start a wonderful working relationship.
Join us on October 8 to see who we are and what we value!
Wednesday, October 9
11:00 AM – 11:30 AM PT
Member Reach: Convenience, Simplicity and Control
Wouldn't it be nice if, when a member first joined your credit union, they received an automated "Welcome!" email? What about for their birthday?
Member Reach can do that for your credit union!  Your members will receive automated messages for paid off loans, CDs approaching maturity, birthdays, and more!  You can customize these messages to display some elements of your brand and control what gets sent, and when.
Join us on October 9 to delve into the details of Member Reach and learn more about this program.  This webinar is geared towards non-current Member Reach clients who would like to learn more about the program and any current Member Reach client that would like to brush up on their Member Reach education.
Thursday, October 10
11:00 AM – 11:30 AM PT
Make it Your Card for Black Friday and Cyber Monday Purchases This Year
Provide your members with thousands of in-store and online shopping discounts, all within your mobile banking app.  Present a credit union card reminder at the most important time, right before they check out.  Give your members the gift of mobile discounts this holiday shopping season!