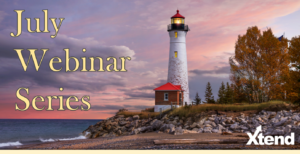 Coming Up Next Week!
Each month, Xtend offers FREE webinars focused on lending, marketing, and member service; these engaging webinars provide credit unions with helpful products, services, and industry tips to give them the leading edge.
Tuesday, July 30
11:00 AM – 11:30 AM PT
Xtend's Core Values and Value Propositions make us unique – come join our discussion as we highlight the major things that make us who we are. Whether you're a prospective client, a new client looking to grow our relationship or you've been working with us for years, getting to know us better will ensure that we continue or start a wonderful working relationship.
Wednesday, July 31
11:00 AM – 11:30 AM PT
Quarterly Campaign Summaries – How Did We Do?
Over the most recent quarter, Xtend's Communications Team has been extremely busy connecting with members and ensuring that our clients' marketing efforts were coordinated efficiently.
Join us on July 31 to chat about the previous quarter's highlights, features and successful marketing efforts as we move forward into the next quarter. This webinar is just one more way that Xtend is leading in communication and providing inspiration and creative marketing ideas for our clients.