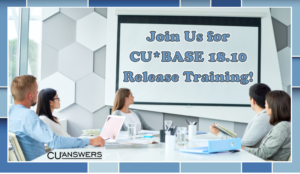 The 18.10 Release of CU*BASE will be arriving on October 21 for Online and Site-Four clients, and on November 5-6 for Self-Processing credit unions.  CU*Answers will be hosting two separate training sessions for the upcoming release, on the following dates:
Wednesday, October 10
2:30 PM – 4:00 PM ET
Wednesday, October 17
2:30 PM – 4:00 PM ET
Follow the link below to register – click on the drop-down box on the registration page to select the date that works best for you.
Don't forget: CU*Answers web conferences are always free to attend!