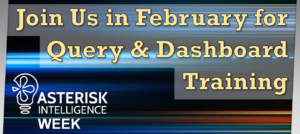 Join the Asterisk Intelligence team for a week of in-person educational events, February 18-20 in Grand Rapids, MI!  Not able to join us in Grand Rapids?  Sign up for online webinar courses held on February 21!  These events are designed for credit union management, marketing staff, and database administrators.
A few days of query training will help you to become an expert user of the CU*BASE Report Builder tool.  Learn how queries are created and the value they have in analyzing member data, as we cover everything from database file structure to multiple file queries.
Monday, February 18
6:00 AM – 1:00 PM PT
Register for Dashboard Training
Tuesday, February 19
6:00 AM – 1:00 PM PT
Register for Day 1 of Query Training
Wednesday, February 20
6:00 AM – 11:30 AM PT
Register for Day 2 of Query Training
Then, on Thursday, February 21, join us for a series of webinars as we take a look at Analytics Booth, Data Warehouse and Data Management solutions.  Gain a comprehensive look at these features, and the value these can bring to you and your staff.
Thursday, February 21
6:00 AM – 7:30 AM PT
Introduction to Analytics Booth
8:00 AM – 9:00 AM PT
Expanding the Audience on Data with Analytics Booth
11:00 AM – 12:00 PM PT
Data Warehouse Tools & Strategies
12:30 PM – 1:30 PM PT
Hot Topics in Database Management
Please be aware that seating is limited for these events.  Sign up today to reserve your spot!