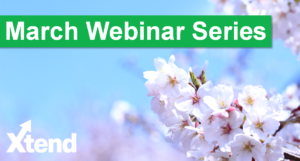 Coming Up This Week!
Each month, Xtend offers FREE webinars focused on lending, marketing, and member service; these engaging webinars provide credit unions with helpful products, services, and industry tips to give them the leading edge.
Wednesday, March 4
11:00 AM – 11:30 AM PT
Xtend Communications Overview Webinar
The Xtend Communications department keeps credit unions connected to their membership by acting as an extension of CU marketing teams.  Join us as we dive into the various Communication offerings ranging from ongoing outreach, campaign management, one-off custom requests, and more; and see how we can align with your current or future initiatives.