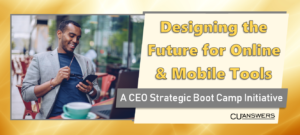 During the 2018 CEO Strategic Developers Boot Camp, CEOs brainstormed on the future of online and mobile tools from a big-picture, strategic point of view.  In addition to exploring our collective vision for the future of online and mobile products, CU*Answers reviewed two 2019 initiatives that serve as templates for tactical approaches: the Online '19 proof-of-concept project, and launching the new CU*Answers Mobile Technologies Group (MTG).
Join this Boot Camp Task Force and help us design new approaches for serving authenticated members, new ways of orchestrating the dance between the marketing value of a website and the actions of an online banking toolset, and new strategies for small-audience mobile apps.
During this 2-day task force event, tactical players from participating credit unions will collaborate to solve today's questions surrounding websites, online banking, mobile channels, and more.  In addition to recruiting your subject-matter experts, we're also looking for credit unions who are willing to engage the Asterisk Intelligence team and enroll in It's Me 247 Optics.
Tuesday March 26 & Wednesday March 27
Hosted at our headquarters in Grand Rapids, MI
Registration closes on Monday, March 11, at 12:00 PM ET.  The deadline for workbook submissions has also been extended to March 11 at Noon.  If you plan on attending this event, you must submit both your workbook and registration by this date.