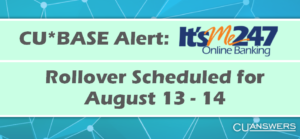 As a reminder, the It's Me 247 Rollover will begin at 3:00 AM PT on Tuesday, August 13, and is scheduled to conclude at 3:00 AM PT on Wednesday, August 14.  We will be posting any/all issues related to this rollover on the CU*BASE Alerts page, compiled into a single alert post located here.  We will not be sending out any emails regarding individual issues for this rollover.  If you are encountering any issues during this rollover, please refer to the CU*BASE Alerts page to see if it is currently listed as a known issue.
Below are some helpful questions to ask members when gathering information to report any issues you may encounter.  These questions will also be listed in the alert post:
Which web browser were they using when accessing It's Me 247, including the version?
What operating system were they using, including the version?
Were members using desktop banking, mobile app or mobile web?  If they were using mobile banking or mobile web, which version?  (This can be located under 'Settings and Info' for mobile app.)
What type of device did the member use?
What time of day did the member experience the issue?
If members encountered an error message, what did the message say?  Did they take a screenshot of the error message?
For full details on this rollover, please click here to refer to our previous announcement.