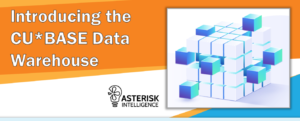 Asterisk Intelligence is very proud to introduce their new product – the Data Warehouse!  The Data Warehouse is the latest data management solution from Asterisk Intelligence and is designed to open up customizability and control of your data both in and out of CU*BASE.  Analytics can go next-level for your credit union as you are finally able to store external data sets alongside existing core data.
Order Your Data Warehouse Today!
Signing up for a data warehouse environment is the easy part; we encourage all credit unions to consider this a moment in evaluating your current data strategies, business intelligence talent within your staff, and begin to consider procedures for data collection and aggregation within any warehouse.
If you are your credit union's database administrator and would like to talk details (retention periods, availability, back-ups, security, etc.), please contact ai@cuanswers.com, or call ext. 870 to get in touch with us.
Register for one of our upcoming webinars to hear the Asterisk Intelligence team review the Data Warehouse and explain the vision for its future.
Monday, April 8
11:00 AM – 11:30 AM PT 
Wednesday, April 10
6:30 AM – 7:00 AM PT